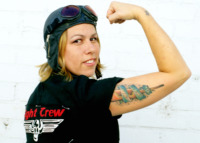 Jennifer "Kasey Bomber" Barbee
photo by Meghan Quinn

Jennifer Barbee grew up in a happily stable family in the bustling melting pot of Garland, Texas - adjacent to Vietnamese men who claimed to see Jesus in their television, homemade illegal halfpipes, and untouched thrift stores where you could buy old Farrah Fawcett tshirts for 75 cents. After a youth misspent swimming in above-ground pools, and learning the birds and the bees from XXX-rated magazines that washed up in the local creek, she moved down to the comparably urbane Austin, Texas. There, she proceeded to misspend her early adulthood arguing about the merits of "Charlie's Angels feminism," developing a serious breakfast taco habit and enjoying the early 90s "space rock" scene.
A degree in Radio-Television-Film from the University of Texas at Austin and a hankering for big city life led Jennifer to Los Angeles in 1997. In her early years in L.A., she did time as a shiftless dilettante, holding jobs as a tile and marble mosaic designer, a video store clerk, a celebrity photo salesperson, a DJ, a screenplay analyst, a sexologist's research assistant, and a desk drone for EMI/Capitol Records. In the early 2000s, she happily found two things that would much improve her focus: a job at the Writers Guild of America and roller derby. At the WGA, Jennifer is currently your go-to girl if you happen to be a deceased screenwriter. (If you do happen to be a deceased screenwriter and are reading this, I might suggest you call a doctor immediately!) She sees to it that all those wonderful residuals paid to writers for their work continue to benefit their families after they pass from this lonely planet.
In October 2003, Jennifer joined the L.A. Derby Dolls, rechristened herself Kasey Bomber, and became the co-captain of the fun-loving Trust Fund Terrors. Since roller derby was still the early days of its revival, Jennifer made it her mission to unite the Dolls in spirit with all the other leagues across the country. Many airline miles, toasts to success, and skating-induced blisters later, she took that mission one step further by helping to organize the first national roller derby convention, Rollercon, in Las Vegas in 2005. After several exciting seasons, Jennifer retired from team skating in 2008 to focus on coaching, and refocus on writing for publications such as Blood and Thunder Magazine.
In 2008, she was hired to help train actresses Ellen Page, Juliette Lewis, Drew Barrymore, Eve, Kristen Wiig, Ari Graynor and Zoe Bell for the derby-inspired film "Whip It!" Her fellow trainer on set was her good friend Alex "Axles of Evil" Cohen. The seeds of Down & Derby: An Insider's Guide to Roller Derby were planted during the many hours of down time on the film's set in Michigan, and the friends became writing partners.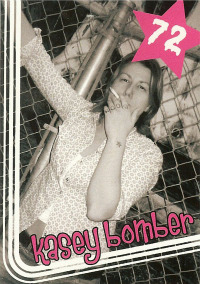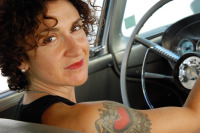 Alex "Axles of Evil" Cohen
photo by Rich Dean
Alex Cohen was born in New York City but her family moved to sunny southern California when she was just two years old. Perhaps it was the influence of nearby Hollywood, or early TV appearances on the kids show "That's Cat!" that initially led Alex to think she wanted to be an actress. So she left home at 15 to study theater at Interlochen Arts Academy in Michigan. She went on to study more theater at Brown University, but became way more interested in Eastern Religions - which is what she earned her B.A. in with honors in 1993.
She then spent many years armed with extensive knowledge of 13th century Zen Buddhism but no clue as to what to do with her life. She tended bar, worked odd temp jobs and designed parade floats for a while before deciding to teach English in Japan. While there, she frequently gallivanted throughout Asia and Europe. Being so far away from news back home, she realized she was a news junkie and so she went to UC Berkeley's Graduate School of Journalism where she received her Masters of Journalism.
Alex went on to work in radio as a producer and reporter at National Public Radio and at NPR member stations KQED and KPCC. In recent years most of her work has been as a host of such programs as American Public Media's "Weekend America," NPR's "Day to Day" and she is currently the host of KPCC's "All Things Considered." She also contributes regularly as a reporter to "Marketplace" and NPR programs.
Alex found roller derby while doing a story on it in Austin, Texas and she quickly fell in love. In Los Angeles, she joined the L.A. Derby Dolls as Axles of Evil in 2003. She skated competitively for five years with the Tough Cookies team and with the TXRD Lonestar Rollergirls' Holy Rollers teamin Austin (where she is known as Smother Theresa). She continues to train rollergirls and teaches non-competitive derby classes called Derby Por Vida.
In 2008, Axles was hired to train actresses including Ellen Page, Drew Barrymore, Juliette Lewis, Kristen Wiig, Eve, Ari Graynor and Andrew Wilson how to rollerskate for the film "Whip It!" She also provided skate choreography for the film, served as a derby consultant and makes a cameo appearance as herself. Perhaps one of her most interesting jobs on the film was coaching a phalanx of voice-over artists how to appropriately cheer at a derby bout.